Two foals of 2020 have arrived! There are just four possible foals coming in 2020. Check the possibilities out below! I've taken Sylvie, Missy, Bay B and Addy off of this list. All appear to be open. I believe Amber is open as well, but will leave her on the list for now. My plans are to breed them for 2021.

~~~~~~~~~~~~~~~~~~~~~~~~~~~~~~~~~~~~~~~~~~~~~~~~~~~~~~~~~~~~~~~~~~~~~~~~~~~~~~~~~~~ ~~~~~~~~~~~~~~~~~~~~~~~~~~~~~~~~~~~~~~~~~~~~~~~~~~~~~~~~~~~~~~~~~~~~~~~~~~~~~~~~~~~


Devarys Spirit Of Whiz X Exhibit A Latte
Due approximately April 4, 2020
It's A Boy!
Born at 3:50 pm April 1, 2020
$2,500
I pasture bred Latte to Lil Whiz. She's definitely pregnant and her due date should be accurate. This will be her second foal with me as her owner. UPDATE: Another champagne foal for Latte. This time it's a boy. I'll most likely do a full color panel test on him, to see exactly what his make up is. At this time, I'm 99% sure he's a classic roan champagne. He has a counter-shading dorsal stripe and lots of white running through his body. He is only for sale, as I have too many boys. I really love this boy, so grab him before I change my mind. I sure hope that I don't regret selling this boy!

Click on above images for larger pictures.
Thistle Fields Krystal Keepsake X Ramakers High Expectations
Due approximately May 31, 2020
It's A Girl!
Born at 2:30 am May 10, 2020
Thistle Fields Mocha High
SALE PENDING
High was only bred to Keeper one day. She never went back into heat, so I'm guessing she's pregnant. If so, this will be Keeper's first foal. Keeper and High are both out of grandsire Sheep Meadow Whiz, a cornerstone of my herd. UPDATE: High has a leggy black or blue roan pinto filly by her side. A wonderful Mother's Day gift!

Click on above images for larger pictures.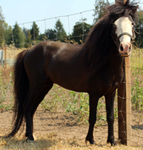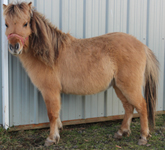 Rivendells Git R Dun X Thistle Fields Uniquely Dun
Due approximately June 18-20, 2020
Amber turned 3 this year, so I decided to try and breed her. I'm almost certain she's bred to Larry. This foal should be stunning and I can't wait to see it.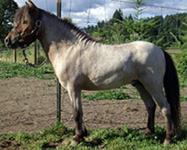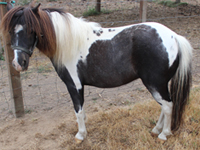 Devarys Spirit Of Whiz X Thistle Fields Royal Shenanigans
Due approximately August 1, 2020
I only bred Shenanigans to Lil Whiz one day. I'm fairly certain she's pregnant though. She always has stunning foals from Lil Whiz.