All of the foals have arrived for 2023. Only one isn't shown here. I'll get him listed, probably on the For Sale page, soon hopefully.

This page will soon transition into the 2024 foal line-up. I cut back on breeding this year and almost all of the 2024 crop of foals will be out of Tanner. I'm excited to see what Tanner produces!

~~~~~~~~~~~~~~~~~~~~~~~~~~~~~~~~~~~~~~~~~~~~~~~~~~~~~~~~~~~~~~~~~~~~~~~~~~~~~~~~~~~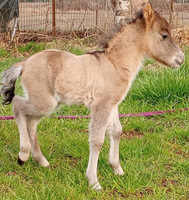 <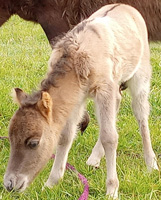 Raising Thunder Domino Star X Thistle Fields Inwhizable
It's A Girl!
Born @ 9:55pm March 16, 2023
Color: Bay
Name: JRM Whizkey Bay
NFS At This Time
Domino is a new mare that I added in 2021. This will be her first foal. She goes back to the Luck Four line. I can't wait to see what she produces with Inwhizable.This latest foal looks like a bay dun but neither parent carry a dun gene. The "Whiz" line tends to throw a lot of counter-shading, which are what her markings are called. She has a bold dorsal stripe and prominent shoulder stripes as well.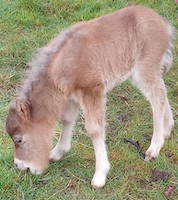 <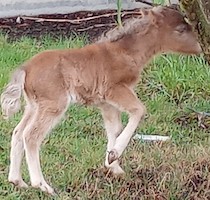 Thistle Fields Flight Of Fancy X Oak Bay Salsa Redefined
It's A Boy!
Born: 5:33am March 21, 2023
Color: Silver Bay
$3,000
Fancy is such a well put together mare and is a favorite of mine. She's had one super tiny filly, from my Monarch son, so I've decided to pair her up with Redi. I hope she passes on her floating trot. Fancy did it again. She has a super tiny and refined Redi colt at her side. He's a mini version of his sire and I'm loving him more and more as he matures.